ST PETE HNW Fest and the Return of Wallkeeper - Fest Report

On April 29th, 2014, 7 artists got together to present an evening of focused wall noise. The venue of choice was the Suncoast's go to anti-art establishment the Venture Compound. The event was the brainchild of HNW enthusiast Sisto Rossi. Transplants from Germany, Sisto and his wife Mariela made home in Florida, then Portland and back to Florida again. Since his return, he talked about organizing a HNW only fest. Unfortunately, it was only after word that the Rossis' were departing back to Deutschland that the Wall Fest became reality. According to Sisto:



Nighttime In The Abyss - Of Madness, Pain & Satanic Praise

Columbia Missouri based Nighttime In The Abyss are a dense, dark & disorientating sonic project that are difficult to put under one genre label. It's clearly influenced by blacked noise, power electronics, disturbing spoken word, black metal, and dark ambience- but really you can't label this project- you just have to experience it!. The project was started in October 2012 by one Alocer Christus( real name Christopher Ropes), and has so far amassed around 7 or so releases on various underground experimental labels. Christopher kindly agreed to give M[m] an email interview, and what follows is a fascinating trip into the world of this most disturbing & unique of projects.



Savage Cross - Into The Blackened Void

Baltimore, Maryland based Savage Cross brew up a stumbling, brooding & extreme mixture of noised-up black metal, blackened noise, and HNW. Behind the project is one Evan Craig- who has been involved with-in the underground noise scene since 2008, and is behind projects such as: creative HNW project Ritual Stance, dark ambient meets power electronics project Frailty Of Angels, and Reaching. which mixers together elements of noise, power electronics, dark ambience & field recordings. Evan kindly agreed to give M[m] a email interview regard Savage Cross, and it's dark, distinctive & brutal sound.



Black Leather Jesus - In Praise Of Searining Sonic Smut- 25 Years Of Black Leather Jesus

Black Leather Jesus are one of the longest running & respected of US harsh noise collectives. The projects crude & perverse sound is often very dense & noise jam based, with a heavy use of junk metal. The collective is now in its twenty firth year, and at present features 13 members- at the centre of the project is Texas noise couple Richard Ramirez (the projects founder) & Sean E. Matzus. Both Richard & Sean kindly agreed to give M[m] an email interview from the project base in Houston Texas.



Irene Moon - Entomological Surrealism

Katja Seltmann, better known by her alter-ego Irene Moon, has been an active figure in the experimental underground since the early 90's. An entomologist by trade, she's known for melding her entomology lectures with performance art. Recently she is featured on a split album with Pod Blotz, as a member of the noisy, absurdist theatre group Auk Theatre. One of my favorite releases of 2013, their side of the split is a wild ride of spoken word, wind instruments, and electronics, that sounds noisy yet folksy at times. Ms. Moon kindly took time to answer some questions regarding her projects and the new(ish) split album.



irr. app. (ext.) - Oregon Accumulator

When Musique Machine had the pleasure of interviewing Matt Waldon, the West Coast surrealist known as irr. app. (ext.) in the Summer of 2005 he had just been recruited to join Nurse With Wound's new live configuration. Since then he has helped to ensure their deliriously potent live performances are a regular fixture in key cities across the globe, while maintaining a resolutely singular approach to his solo work, both audio and visual.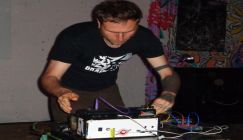 ST PETE HNW Fest and the Return o...
On April 29th, 2014, 7 artists got together to present an evening of focused wall noise. The venue of choice was the Suncoast's go to anti-art establishment ...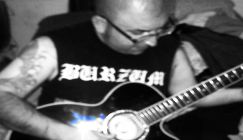 Wehrmacht Lombardo - Au Convent D...
"Au Convent De Panthemont" is released on Altar Of Waste, which means another beautifully presented album in their house style. So, we get a smartly designed...