Nash The Slash - The Sonic Dreamweaver

Nash The Slash is one of the more unusual, creative, and distinctive artists to appear from within the Canadian music scene in the last twenty or so years. The project first came into existence in the late 1970's, with the early releases offering up a moody & often horror themed instrumental blend of synth 'n' beats, and electric Violin 'n' mandolin mood scapes. In later releases he brought in elements of new wave, new age, and punk into the mix, and the project went onto to release 11 full lengths & Ep's. Behind the project was one James Jeffrey "Jeff" Plewman, and as the Nash The Slash persona he always wore a trademark disguise which entailed coving his face in bandages wearing sunglasses and a top hat. Sadly in 2014 he passed away at the age of 66. Recently Artofact have started reissuing Nash The Stash back catalogue, starting with his debut album Nightmare & Dreamscapes. And I caught-up with his business partner for an email interview.





Naughty - Static Femininity

Naughty is one of the few female fronted walled noise projects, and behind it is Paris based Charlotte Skrobek. Since the project was launched in 2015 it has fast become one of the more popular Wall acts on the scene. Though Naughty is a relatively new venture Charlotte has been involved with more than a few walled noise & noise projects of the last few years. Most notable of these is Absurde with her husband Julien, as well as solo projects(The Girl with a Stanley Knife, Sleep Paralysis and Flux Nocturne) and a few other collaborations: Flesh Clocks(with Julien) and Cuttings ( with Clive Henry). Charlotte kindly agreed to give M[m] a email interview





Signora Ward Records - Nylon Walled-Noise

Signora Ward Records is an Italian tape label that focus in on very specific types of noise & themes, and those are HNW & Feet and Legs/ Nylon Stockings fetish. The label was stared in 2014, and has quickly become a very popular name with-in the 'wall' & extreme sonic scenes, with releases selling out with-in days of release. I tracked down the man behind the label, Dwight Holly for an email interview.



23 Treads - Strange Pathways Into Neo-folk

23 treads are a Polish three piece now relocated in New York City. They summon-up a macabre, at times wonky & darkly psychedelic blend of neo folk, which is often repetitive & sonically locked down, with wordy female spoken word vocals on top. In 2015 they released their first album in 15 years-Conspicuous Unobstructed Path, and this turned out to be one of my surprise highlights of the year with was its edgy, stark & often experimental edged take on the neo-folk genre. So I decided to track down the band for a email interview, and the following interview is with lead singer Ingrid Dawn Swen, and main songwriter/ musician Marek Marchoff.



Joseph Szymkowiak - On A Quest To Experiment

Joseph Szymkowiak has been active in the field of experimental music for six years. His quest for unusual sounds has led him to explore a wide variety of genres, from Noisecore to Ambient, going through Free Improv and Harsh Noise Wall. This variety of interests is also well documented by the label he created : Nahàsh Atrym Productions. Joseph has kindly agreed to give an interview to Musique [Machine] and discuss the deep thoughts and feelings he attaches to his experimentations.



Morte Cammina & Needle and Knife label interview - Australian HNW Nightmare

Australian based Shaun Mack is the only noise-maker I'm aware of making walled noise down-under. He's behind such projects as Morte Cammina, Girl On The Bridge, Widow Park and Bleak August. And he also set-up a great wall noise only label Needle & Knife. Shaun kindly agreed to give M[m] an email interview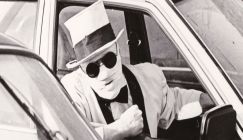 Nash The Slash - The Sonic Dreamw...
Nash The Slash is one of the more unusual, creative, and distinctive artists to appear from within the Canadian music scene in the last twenty or so yea...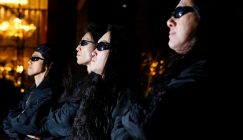 Defiled - Towards Inevitable Ruin
Japanese death merchants, Defiled, are back again on Season of Mist, this time, with their fifth release, Towards Inevitable Ruin. Taking the form of twelve ...