Panic - The Ring

Hereís a cdr from Panic, on Bored Bear Recordings; concerning one of my favourite film entities: Sadako. Youíll hopefully remember Sadako from the Japanese Ringu series of films: its unlikely youíll have forgotten her. She was the twitching, jerking figure who haunted the viewers of a videotape; crawling along the floor, or emerging from a well with her face hidden by long, black hair.


Coffins - Ancient Torture

Japan is known for many extreme acts, and Tokyo's Coffins is no exception. Coffins' brand of heavy, crunchy doom/death has received quite a cult following, and it's pretty warranted. Over a handful of full lengths and numerous splits and compilation appearances, Coffins has managed to hone their craft of crushing doom, plodding death, and aural despair. Late last year, Hammerheart Records re-released Ancient Torture, a 2 CD collection of splits and compilation appearances. Hunting down rare tracks is not only a pain in the ass, but can get very expensive. This release allows fans to experience the Coffins tracks that may have slipped through their grasp.


La Goccia D'Acqua - Death In Sťance

Death In Sťance is the second release from La Goccia D'Acqua- the atmospheric & bone-chilling walled noise project of Paris based Julien Skrobek (Sadistic Fall,The Killer Came From The Bronx ,Ghost, The Sandman Wears A Mask, Ruine, Butch Bag). All of this projects releases are themed around Mario Bravaís early 1960ís classic Italian anthology horror movie Black Sabbath, and in particular the third or first story in the movie(depending on which version of the film you watch) which details the tale of a nurse who steals a ring from a dead medium, and starts to thinking sheís been stalked by the mediums ghost.


Cory Strand - Paris, Do You Speak French?

Paris, Do You Speak French? once again finds this highly proflic noise-maker & drone-creator retooling & morphing modern female pop fare into often lengthy experimental sound-scapes, which move between ambience & dense noise-craft. The subject of this multi disc set(5 CDRís & 2 data DVDís) is the work of Paris Hilton- the infamous American socialite, actress and pop star.




Abazagorath - The Satanic Verses

Founded in 1995, Abazagorath bears the distinction of being one of the oldest American black metal bands still kicking. And despite their lengthy tenure, The Satanic Verses is just the third album put out by this New Jersey based outfit, possibly due to a fair amount of lineup changes (drummer Warhead is the only remaining founding member). Still, Iíll take quality over quantity any day, and quality is something these guys have in spades. This album is about the Satanic Verses, which were a series of verses in the Quran where Mohammed acknowledged the existence of a pagan god. Later, he allegedly recanted, saying that Satan forced him to speak, and the verses were removed.


Peter Epstein Quartet - Polarities

Saxophonist/composer/bandleader Peter Epstein and his band play a cerebral iteration of classically informed post bop with complex, meandering head melodies inspired by the likes of John Coltrane or Eric Dolphy, whose asymmetrical, oddly composed figures may at first sound improvised, until played again verbatim in their vast entireties. With 9 diverse pieces spanning 65 minutes, Epstein's group covers a huge amount of ground.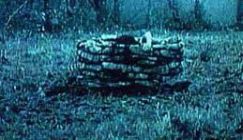 Panic - The Ring
Hereís a cdr from Panic, on Bored Bear Recordings; concerning one of my favourite film entities: Sadako. Youíll hopefully remember Sadako from the Japanese R...




Lorenzo Abattoir - US West Coast...
During August 2014 Italian noise maker & HNW artists Lorenzo Abattoir went on his first US tour taking in a the west coast of the country. Lo...