Review archive: b

BaBa Zula & Mad Professor - Ruhani Oyun Havaları reviewed on 2004-04-14



Babyflesh - New Wave of Cynicism reviewed on 2005-08-17



Bachir Gemayel - HNWar reviewed on 2012-10-15



Bachir Gemayel & Dead Body Collection - Sniper/Knives reviewed on 2010-05-12



Bachir Gemayel / Terminal Erection - Odium reviewed on 2010-09-10



Bad Algorithim - Bathe reviewed on 2013-09-19



Bad Algorithm - ???- Mystery reviewed on 2012-08-24



Bad Algorithm - Collapse reviewed on 2012-05-11



Bad Algorithm - Game of Consequence reviewed on 2012-12-21



Badings, Raaijmakers & Dissevelt - Popular Electronics reviewed on 2005-02-28



Bahimiron - Rebel Hymns of Left Handed Terror reviewed on 2011-12-17



Jessica Bailiff - Feels Like Home reviewed on 2006-09-16



Aidan Baker - Already Drowning reviewed on 2013-03-21



Aidan Baker - Book of Nods reviewed on 2009-01-07



Aidan Baker and Beta Cloud - An Open Letter to Franz Kafka reviewed on 2008-02-23



Baktruppen - 1986-2008(boxset) reviewed on 2010-03-18



Balam Acab - Wander Wonder reviewed on 2011-10-10



Simon Balestrazzi - The Sky Is Full Of Kites reviewed on 2014-04-27



Ballerina in Blood/Vasectomy Party - Split reviewed on 2013-02-15



Davide Balula - Pellicule reviewed on 2003-06-08



Band of Pain - Through the past Darkly(1994-2006) reviewed on 2006-05-11



Baptists - Bush Craft reviewed on 2013-03-12



Paul Baran - Panoptic reviewed on 2010-01-04



Gregorio Bardini - Sentinelle Del Mattino reviewed on 2007-06-12



Igor Bardo - My Sweet Nightmare reviewed on 2012-01-20



Bardo Pond - Yntra reviewed on 2013-01-15



Bardoseneticcube & Noises of Russia - New Orthodox Line reviewed on 2008-06-01



Bark Haze - Total Joke Era reviewed on 2007-07-21



Barn Owl - Ancestral Star reviewed on 2010-10-25



Barn Owl - V reviewed on 2013-04-22



Barn Owl & The Infinite Strings Ensemble - Headlands reviewed on 2011-09-14



Barr - Summary reviewed on 2007-05-22



Brad Barr - The Fall Apartment: Instrumental Guitar reviewed on 2009-03-30



Barrikad - We Make Nihilists Smile Again reviewed on 2011-12-10



Evan Bartolomew - Borderlands reviewed on 2007-08-09



Barzel - Born to Destroy Amalex reviewed on 2008-05-07



William Basinski - El Camino Real reviewed on 2007-08-19



William Basinski - Shortwavemusic reviewed on 2007-04-05



William Basinski - The River reviewed on 2008-05-14



William Basinski - Variations for Piano and tape reviewed on 2006-08-22



William Basinski + Richard Chartier - Untitled 1-3 reviewed on 2008-03-26



Bass Communion - Ghosts On Magnetic Tape reviewed on 2008-07-01



Bast - Witch reviewed on 2011-01-20



Bastard Noise - Our Earth's Blood IV reviewed on 2009-05-03



Bastard Noise vs. Brutal Truth - Axiom of Post Inhumanity reviewed on 2013-12-04



Bastard Sapling - Instinct Is Forever reviewed on 2014-07-07



Evan Batholomew - Secrets entries into Darkness reviewed on 2008-05-17



Bathory - Nordland I reviewed on 2003-05-10



Les Baxter - Jewels Of The Sea reviewed on 2012-07-31



Les Baxter - The Fruit Of Dreams reviewed on 2013-03-05



Bay Laurel - Where Pain Comes To Die reviewed on 2001-07-05



Be Maledetto Now! - 1 reviewed on 2010-05-01



Beady Belle - Home reviewed on 2002-05-01



Beaks Plinth - Kai Kohola Leo reviewed on 2008-10-01



Beangrowers - Beangrowers reviewed on 2001-06-27



Beans - Tomorrow Right Now reviewed on 2003-03-24



Beat Circus - Boy From Black Mountain reviewed on 2011-06-21



Beat Circus - Dreamland reviewed on 2009-03-08



Gianluca Becuzzi - Haunted reviewed on 2012-04-21



Bee and Flower - What's mine is yours reviewed on 2003-04-17



Beefcake - Drei reviewed on 2002-03-10



Beefcake - Hôte reviewed on 2002-11-30



Beequeen - Sandancing reviewed on 2008-05-02



Beequeen - The Bodyshop reviewed on 2005-01-15



Behexen - Nightside Emanations reviewed on 2012-09-14



Marc Behrens - 20 Zonen reviewed on 2012-10-19



Marc Behrens - Sleppet reviewed on 2010-04-22



Being - Predator reviewed on 2010-01-30



Beip - I Like Penis reviewed on 2007-03-23



Bejar/Iversen - Days of Thunder reviewed on 2007-04-21



Andrea Belfi - Wege reviewed on 2013-09-19



Bellenger - Vie Rapide reviewed on 2011-09-12



Bemydelay - Hazy Light reviewed on 2013-09-06



BeMyDelay - ToTheOtherSide∆ reviewed on 2011-10-12



Ben Wa - Disciples Of Retro-Tech reviewed on 2001-10-30



Beneath The Lake - Silent Uprising reviewed on 2006-11-20



Justin Bennett - Noise Map(Cd & Book) reviewed on 2008-07-04



Justin Bennett - Wildlife reviewed on 2008-05-14



Nicolas Bernier - Frequencies (a / fragments) reviewed on 2014-06-05



Keith Berry - The Ear that Was Sold To A Fish reviewed on 2005-10-27



Bersarin Quartett - Bзrsariп Quaяtзtt reviewed on 2008-02-11



Andreas Bertilsson - Paramount reviewed on 2007-03-19



Besh o droM - Gyí! reviewed on 2005-06-08



Beta Cloud - Coptic Lament reviewed on 2007-05-19



Beta Cloud - Nephology reviewed on 2007-08-01



Beta Cloud vs. Kenji Siratori - Plug reviewed on 2008-10-10



Bexar Bexar - Tropism reviewed on 2007-04-22



Beyond Dawn - In Reverie reviewed on 2006-04-01



Beyond Twilight - The Devil's Hall Of Fame reviewed on 2002-07-21



Jello Biafra - In The Grip Of official treason reviewed on 2006-10-25



Andreas Bick - Fire and Frost Pattern reviewed on 2012-01-30



Big China & Little trouble - Black Blood of The Earth Parts 1&2 + Fur & Teeth reviewed on 2008-09-05



Fred Bigot - Mono/Stereo reviewed on 2010-07-02



Bill Gould / Jared Blum - The Talking Book reviewed on 2011-10-18



Bonnie 'Prince' Billy - Lie Down in the Light reviewed on 2008-06-10



Billy Crystal Meth - Meth Metal reviewed on 2010-11-01



Bing And Ruth, Joshua Van Tassel, Tim Cr - Backward Music Vol.1 reviewed on 2013-03-26



Biomass - Electrozali reviewed on 2010-10-05



Bionulor - Sacred Mushroom Chant reviewed on 2012-01-05



Biosphere - Autour De La Lune reviewed on 2004-11-07



Biosphere - N-Plants reviewed on 2011-08-30



Biosphere - Wireless reviewed on 2010-08-07



BiPolar Joe/The Sleep Sessions/Vilgoc - Self Titled reviewed on 2010-11-10



Birch Book - Vol. III - A Hand Full Of Days reviewed on 2010-08-09



Birchville Cat Motel - Gunpowder Temple of Heaven reviewed on 2008-04-10



Birchville cat Motel - Seventh Ruined Hex reviewed on 2007-12-24



Birchville Cat Motel/Opaque - Split reviewed on 2007-03-09



Birdsongs Of The Mesozoic - Dawn Of The Cycads reviewed on 2009-01-12



Bisclaveret - Psyche nomine reviewed on 2007-03-15



BJ Nilsen - The Short Night reviewed on 2007-12-14



BJ Nilsen & Stilluppst​eypa - Góða Nótt reviewed on 2012-12-18



BJ Nilsen & Stilluppsteypa - Man from Deep river reviewed on 2009-05-19



BJ Nilsen & Stilluppsteypa - Passing Out reviewed on 2008-08-16



BJ Nilsen & Z'ev - 22' 22 reviewed on 2007-11-01



Sindre Bjerga - Ghost In The Machine reviewed on 2012-11-09



BJNilsen & Stilluppsteypa - Drykkjuvĩsur óhljódanna reviewed on 2007-01-10



Björk - Vespertine reviewed on 2001-12-30



Bl'ast - The Expression of Power reviewed on 2014-04-15



Black Air - Paris reviewed on 2011-06-30



Black Anvil - Hail Death reviewed on 2014-05-19



Black Beast of Arrrghhh - A Night at the Dollar Theatre reviewed on 2013-05-21



Black Boned Angel - Bliss & Void Inseprable reviewed on 2006-07-14



Black Boned Angel - Enternal Love/ Enternal Hunger reviewed on 2007-08-25



Black Boned Angel - Eternal Hunger reviewed on 2006-10-21



Black Cargoes - Glass reviewed on 2009-03-09



Black Dice - Beaches & Canyons reviewed on 2003-01-25



Black Dice - Creature Comforts reviewed on 2004-07-12



Black Leather Jesus - Machofucker reviewed on 2010-07-03



Black Leather Jesus - Smacked Red reviewed on 2011-02-10



Black Leather Jesus - Torture Machinist reviewed on 2010-04-06



Black Leather Jesus - Yes, Sir (Filth Play) reviewed on 2010-02-06



Black Leather Jesus/Richard Ramirez - Latex reviewed on 2013-02-14



Black Lung - The Soul Consumer reviewed on 2011-04-19



Black Magic Disco - S/t reviewed on 2007-07-01



Black Orgasm - Orgasmo Nero reviewed on 2012-11-05



Black Ox Orkestar - Nisht Azoy reviewed on 2006-03-16



Black Piss - Mourning in Reverent Bitterness for the Astral Sum reviewed on 2011-09-23



Black Sand Desert - Choking on Grave soil reviewed on 2006-08-25



Black Seas Of Infinity - Amrita The Quintsessence reviewed on 2007-05-24



Black Seas Of Infinity - Hieros Gamos reviewed on 2010-02-26



Black Sun - Sacred Eternal Ellipse reviewed on 2006-06-27



Blackout Beach - Skin of Evil reviewed on 2009-04-03



BlackOut Order - The Obscenities On All Fours reviewed on 2012-11-05



James Blackshaw - Love is the Plan, the Plan is Death reviewed on 2012-06-28



Michael Blake - In the Grand Scheme of Things reviewed on 2014-05-08



Blank Depths - Untitled reviewed on 2012-09-04



Blank Flags - Self Titled reviewed on 2010-08-25



Blanketship - Teen Sounds reviewed on 2008-08-06



Blanketship & The Dollson Family Singers - Music with A Message reviewed on 2007-12-29



Bleak Existence - HNW Is Not Dead reviewed on 2012-04-18



Bleak Existence - Love Earth Hate People reviewed on 2014-05-08



Bleak Existence - Uncertainty And Insecurity reviewed on 2012-11-28



Bleeding Fist - Death's Old Stench reviewed on 2014-04-21



Bleiburg - Indivisibiliter ac Inseparabiliter reviewed on 2010-10-01



Bleiburg - Pieces of a Broken Dream reviewed on 2007-03-03



Bleiburg - Till The Last Night reviewed on 2012-03-23



Blind Cave Salamander - Self Titled reviewed on 2008-05-13



Daniel Blinkhorn - Terra Subfónica reviewed on 2013-12-03



Bliss - Quiet Letters reviewed on 2004-09-16



Blizaro - City of the Living Nightmare reviewed on 2011-07-14



Olivia Block - Heave To reviewed on 2008-10-04



Blood Axis & LJDLP - Absinthe, La Folie Verte reviewed on 2002-01-30



Blood Box - Funeral In An Empty Room reviewed on 2012-01-13



Blood Box - The Iron Dream reviewed on 2004-12-20



Blood Ceremony - Self Titled reviewed on 2008-11-12



Blood Fountains - Floods reviewed on 2010-02-16



Blood Of The Black Owl - A Banishing Ritual reviewed on 2010-04-28



Blood Of The Black Owl - A Feral Spirit reviewed on 2009-01-31



Blood of the Black Owl - Light The Fires! reviewed on 2013-04-11



Blood of The Black Owl - S/T reviewed on 2007-03-07



Blood Song - All In Your Mind reviewed on 2013-03-13



Bloodcraving - House by the Cemetery reviewed on 2010-06-21



Ryan Bloomer - Bully Hiss reviewed on 2009-12-20



Blotted Science - The Machinations Of Dementia reviewed on 2007-12-19



Blue Sabbath Black Cheer - Crows Eat The Eyes From The Leviathans Carcass reviewed on 2009-06-22



Blue Sabbath Black Cheer - HN reviewed on 2010-12-22



Bluermutt - Decivilize After Consumption reviewed on 2008-12-07



F.S. Blumm - Sesamsamen reviewed on 2004-11-06



Blur - Think Tank reviewed on 2003-06-09



Blut Aus Nord - 777 Sect(s) reviewed on 2011-06-07



Blut Aus Nord - 777 The Desanctification reviewed on 2011-11-24



Blut Aus Nord - The Mystical Beast Of Rebellion reviewed on 2011-09-30



Blut Aus Nord/P.H.O.B.O.S - Triunity reviewed on 2014-07-12



Blutch - Fra Diavolo reviewed on 2003-10-20



Bly De Blyant - ABC reviewed on 2013-10-27



BL'AST - Blood reviewed on 2013-09-09



Boar - Boar Live reviewed on 2012-03-01



Boar - Craft reviewed on 2012-11-14



Boar - Dead Existence reviewed on 2013-03-09



Boar - Drown Yourself reviewed on 2013-05-23



Boar - Family Meeting reviewed on 2011-07-13



Boar - Fucking Disgusting reviewed on 2010-11-03



Boar - I Can See Your Breath reviewed on 2010-07-28



Boar - Tour boxset reviewed on 2011-03-21



Boar - Untitled reviewed on 2013-10-18



Boar - Wall Reaper reviewed on 2011-08-10



Boar/Oblive/I Like You Go Home - Split reviewed on 2011-05-06



Boards Of Canada - Geogaddi reviewed on 2002-03-28



Bob Corn & Matteo Uggeri - Fields Of Corn reviewed on 2013-02-28



Bobby Bradford, Tom Heasley and Ken Ross - Varistar reviewed on 2010-03-21



Bodies Floating In the Bay - The Glimmer Of Darkness reviewed on 2009-12-20



Boduf Songs - Burnt Up on Re-Entry reviewed on 2013-02-06



Boduf songs - How Shadows Chase The Balance reviewed on 2008-09-10



Boduf Songs - Lion Devours the sun reviewed on 2006-10-28



Bog Queen - Dogging Afternoon reviewed on 2013-03-13



Ursula Bogner - Recordings 1969-1988 reviewed on 2009-03-22



Bohren & Der Club of Gore - Dolores reviewed on 2008-10-16



Bohren & Der Club of Gore - Geisterfaust reviewed on 2005-06-22



Bone Grinder/Sleep Column - Split reviewed on 2014-03-06



Bones - Sons of Sleaze reviewed on 2013-12-11



Bones - Untitled reviewed on 2011-07-14



Bonesfield - Gammacamera reviewed on 2007-09-01



Bonesfield - Prototipos Irradiantes reviewed on 2009-01-25



Bonesfield/Facialmess - Split reviewed on 2012-06-01



Bong - Beyond Ancient Space reviewed on 2011-08-02



Bong - Mana-Yood-Sushai reviewed on 2012-10-02



Bong- Ra - I am The God of Hellfire reviewed on 2009-01-03



Bongripper - Satan worshipping Doom reviewed on 2011-05-11



The Books - The lemon of pink reviewed on 2003-10-16



Boom Bip - Blue Eyed In The Red Room reviewed on 2005-03-24



Borbetomagus - Live In Allentown reviewed on 2008-06-18



Borbetomagus - Sauter,Dietrich,Miller,Doherty reviewed on 2008-08-30



Borbetomagus - Snuff Jazz reviewed on 2009-05-21



Borbetomagus - Trente Belles Années reviewed on 2013-04-19



Bördel Noïr - Bouche D'Egout reviewed on 2012-03-28



Bördel Noïr - Cul De Basse Fosse reviewed on 2012-01-20



Bördel Noïr - Elle est morte, elle est pourrie reviewed on 2011-03-31



Bördel Noïr - Hors reviewed on 2011-12-14



Bördel Noïr - La Nuit Gruille reviewed on 2012-11-16



Bördel Noïr - Notre- Dame De Bonne Mort reviewed on 2010-12-01



Bördel Noïr - Self Titled reviewed on 2010-10-02



Bördel Noïr - X reviewed on 2012-05-06



Boredoms - Superroots reviewed on 2006-12-13



Borful Tang - On the back of a Dying Beast Vol 1 reviewed on 2007-11-17



Ascanio Borga - Xenomorphic reviewed on 2009-05-13



Boris - Akuma no Uta reviewed on 2005-05-30



Boris - Amplifier Worship reviewed on 2003-05-18



Boris - Boris at last - Feedbacker reviewed on 2004-03-21



Boris - Flood reviewed on 2002-09-08



Boris - Heavy Rocks reviewed on 2003-01-20



Boris - Pink reviewed on 2006-04-11



Boris - Smile reviewed on 2008-05-06



Boris With Merzbow - Rock Dream reviewed on 2008-04-08



Alexei Borisov & Antonin Nikkilä - Where Are They Now reviewed on 2007-06-09



Borknagar - Empiricism reviewed on 2001-09-28



Borknagar - Quintessence reviewed on 2001-06-10



CJ Borosque - They reviewed on 2006-09-12



Botanist - I: The Suicide Tree / II: A Rose From The Dead reviewed on 2012-01-05



Botanist - IV: Mandragora reviewed on 2013-06-04



Botch - An anthology of dead ends reviewed on 2003-10-05



Botis - The Lesser Key Of Solomon reviewed on 2012-09-07



BOULDER dDASH - Alien Folk Trash reviewed on 2003-07-01



Bowline - S/T reviewed on 2008-03-19



Braaxtaal - Dworr Buun reviewed on 2002-01-11



Brainticket - Cottonwood Hill reviewed on 2014-04-04



Braken - We Know About The Need reviewed on 2007-02-05



Bramble - Cycle Stasis reviewed on 2012-09-21



Glenn Branca - Lesson n° 1 reviewed on 2004-05-16



Steve Brand - Looking into the other reviewed on 2007-12-13



Andreas Brandal - Blunt Force Trauma reviewed on 2010-01-17



Andreas Brandal - Eight Secret Messages reviewed on 2012-07-17



Andreas Brandal - For Einer Nielsen reviewed on 2010-10-21



Andreas Brandal - Into Thin Air reviewed on 2011-08-14



Andreas Brandal - Parts Of The Puzzle reviewed on 2014-02-20



Andreas Brandal - The Merchant of Salt reviewed on 2012-08-17



Andreas Brandal - Underground reviewed on 2011-05-18



Brandal/Senneseth - A Walk in The Park reviewed on 2010-05-01



Brandkommando - Pytania O….. reviewed on 2011-02-22



Brass Mask - Spy Boy reviewed on 2014-05-15



Brave - Searching for the Sun reviewed on 2002-08-16



Brazzaville - Welcome To Brazzaville reviewed on 2004-11-29



Breakaway - Hot Choice reviewed on 2012-09-28



Breakdancing Ronald Reagan - Growing Good Roses/Nipple Problemz reviewed on 2012-10-11



Breaking The Will/Bacul​um - Split reviewed on 2011-09-10



Brethren of The free Spirit - The Wolf Also Shall Dwell With The Lamb reviewed on 2009-05-10



Frank Bretschneider - Kippschwingungen reviewed on 2013-01-07



Frank Bretschneider - EXP reviewed on 2010-10-09



Brighter Death Now - Necrose Evangelicum reviewed on 2008-08-13



Brobdingnagian - Pretty Magoo Cancer reviewed on 2011-08-17



Peter Broderick - Float reviewed on 2008-04-15



Broken Arm Trio - Self Tited reviewed on 2009-05-15



Broken Harbour - Gramophone Transmissions reviewed on 2012-11-20



Broken Penis Orchestra - Plays With Itself reviewed on 2012-02-13



Broken.Hea​rt.Collect​or - Self Titled reviewed on 2012-02-19



Brooklyn Rider - A Walking Fire reviewed on 2013-10-17



Tom Brosseau - Cavalier reviewed on 2008-01-02



David Thomas Broughton - It's in There Somewhere... reviewed on 2007-04-20



Bill Brovold and Larval - Surviving Death/Alive Why? reviewed on 2007-07-12



Brown - Bathing a Leper reviewed on 2010-05-31



Brown - Brown Rainbow reviewed on 2010-11-08



Brown - Dying of the Light reviewed on 2010-03-04



Chris Brown - Rogue Wave reviewed on 2005-06-14



Mike Browning's Inner Workings - Trancemissions reviewed on 2008-04-23



Bruital Orgasme - Untitled reviewed on 2014-01-23



Brulvahnatu - Uterine Acid Swishes reviewed on 2010-12-24



Brume - In Heaven reviewed on 2013-09-03



Brunnen - The Beekeepers Dream reviewed on 2006-07-06



Bruno Heinen Sextet - Karlheinz Stockhausen's Tierkreis reviewed on 2013-06-01



Brutus - Behind The Mountains reviewed on 2013-07-25



Gavin Bryars /Philip Jeck /Alter Ego - The Sinking of the Titanic reviewed on 2008-04-14



BT.HN and Sistrenatus - Exposing the Rib Cage reviewed on 2010-10-12



BT.HN. - Retrospective reviewed on 2010-01-05



Dario Buccino - Corpo Nostro reviewed on 2011-06-29



Buckethead - Bermuda Triangle reviewed on 2002-08-24



Buckethead - Bucketheadland 2 reviewed on 2003-11-13



Buckethead - Electric Tears reviewed on 2003-06-15



Jeff Buckley - Grace reviewed on 2002-12-05



Harold Budd - Avalon Sutra / As Long As I Can Hold My Breath reviewed on 2005-04-02



Bulbs - Light Ships reviewed on 2008-06-29



Bulbul - s/t (3) reviewed on 2003-08-30



Bumblefoot - 9.11 reviewed on 2002-05-30



Bumblefoot - Uncool reviewed on 2001-11-24



Vashti Bunyan - Somethings Just Stick In Your Mind reviewed on 2007-11-17



Rob Burger - Lost Photograph reviewed on 2003-06-29



Burial - Untrue reviewed on 2008-01-27



Burial Ground - Dedicated To George A. Romero reviewed on 2013-10-15



Burial Ground - Disembodied reviewed on 2013-03-01



Burial Ground - Phantasm reviewed on 2012-11-23



Burial Ground - Silent Night, Deadly Night reviewed on 2012-12-21



Burial Ground - The Burning reviewed on 2014-02-20



Burial Ground - The Exorcist reviewed on 2013-07-16



Burial Ground - The Omen reviewed on 2014-05-02



Burial Ground - Zombie reviewed on 2012-11-30



Burial Ground & Crown Of Bone - Hellraiser: A Tribute reviewed on 2013-04-10



Burial Ground & Wet Dream Asphyxiation - House by the Cemetery reviewed on 2013-01-19



Burial Hex - Book of Delusions reviewed on 2012-09-24



Burial Hex - Menstrual Hoax reviewed on 2008-04-04



Burial Hex / Iron Fist of the Sun - Actaeon / Grown Under English Ice reviewed on 2012-04-16



Buried Inside - Chronoclast reviewed on 2005-02-13



Burning Red Ivanhoe - Canal Trip – An Anthology 1969–1974 reviewed on 2013-08-21



Burning Star Core - Blood Lightning 2007 reviewed on 2007-03-15



Burning Swallows - The Illusion of Centers And Contested Terrains reviewed on 2007-05-04



Burning Tree - Lammergyer reviewed on 2013-07-24



Burnt By the Sun - The Perfect is the Enemy of the Good reviewed on 2004-05-24



Bushman's Revenge - A Little Bit of Big Bonanza reviewed on 2012-05-28



Business lady - Torture Footage reviewed on 2009-01-13



Byetone - Symeta reviewed on 2012-05-28



Byron Metcalf & Steve Roach - The Shaman's Heart II reviewed on 2012-08-23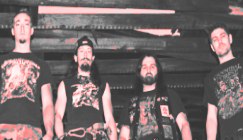 Torn the Fuck Apart - Sexually Tr...
Normally, extreme metal and subtlety don't go hand in hand (save for some glorious acts like Gorguts), and Kansas City's Torn the Fuck Apart is no exception....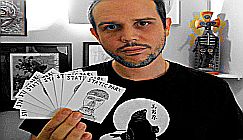 Julien Skrobek - Artful Static
Frenchman Julien Skrobek is one of the more interesting & thought-provoking figures to appear from the European HNW scene. Firstly the sound of his many ...