Review archive: v

V/a - 4 women no Cry Vol 2 reviewed on 2006-10-31



V/a - Audiotion- Sonic Tribute to Takashi Miike reviewed on 2007-04-03



V/A - Blank Field reviewed on 2006-12-23



V/a - Drone Records-A Selection of drones past reviewed on 2007-01-02



V/a - Night Science III- Cd & Booklet reviewed on 2007-01-09



V/a - Noise.IL reviewed on 2007-02-22



V/A - The Roots of Chicha: Psychedelic Cumbias From Peru reviewed on 2007-11-25



V/Vm - Sometimes, Good Things Happen reviewed on 2002-06-19



V:28 - NonAnthropogenic reviewed on 2004-01-04



Vader - Armageddon reviewed on 2002-01-18



Vàg - Music For Smoke-Filled Elevators reviewed on 2013-10-18



VagusNerve - Go Back to the Sirius reviewed on 2013-10-10



VagusNerve - Lo Pan reviewed on 2010-05-04



Mika Vainio - Fe3O4 - Magnetite reviewed on 2013-03-25



Mika Vainio - Life (...It Eats You Up) reviewed on 2011-10-11



Vajra - Mandala Cat Last reviewed on 2003-07-26



Valerio Cosi/Enzo Franchini - Conference of The Aquarians reviewed on 2010-01-10



Valet - Blood is Clean reviewed on 2007-07-04



Damian Valles - Nonparallel reviewed on 2013-02-26



Van Der Graaf Generator - A Grounding in Numbers reviewed on 2011-11-22



Jozef Van Wissem - Nihil Obstat reviewed on 2013-09-25



Vangelis - Albedo 0.39 reviewed on 2014-05-12



Vangelis - Beaubong reviewed on 2014-06-10



Vangelis - Heaven & Hell reviewed on 2014-08-12



Vanishing Voice - Stone Tablet reviewed on 2007-03-29



Vapaa - Hum Hum Hum reviewed on 2008-01-30



Vapaa - s/t reviewed on 2006-05-19



Vardan - The Wood Is My Coffin reviewed on 2014-02-24



Edgard Varèse - Complete Works Of Edgard Varèse Vol 1 reviewed on 2008-12-22



Varghkoghargasmal - Drowned In Lakes reviewed on 2008-07-18



Vargrwulf - Black Supremacy reviewed on 2011-03-04



Vargrwulf - Elite reviewed on 2012-02-07



Vargrwulf - House of Seven Gallows+ The Kitchen Knife Murders reviewed on 2011-09-01



Vargrwulf - Release-(Infinity series part 1) reviewed on 2011-04-22



Vargrwulf - Walls III: Rock and roll will never die reviewed on 2010-12-01



Various - Haunted Weather: Music, Silence and Memory reviewed on 2004-05-28



Various - Music To Fuck To.. reviewed on 2012-01-10



Various - Tasogare: Live in Tokyo reviewed on 2011-10-04



Various - The World Is Gone reviewed on 2008-03-03



Various Artists - Fire In My Bones reviewed on 2009-12-27



Various Artists - Fun From None-DVD reviewed on 2007-04-27



Various Artists - Japanoise of Death II reviewed on 2008-07-12



Various Artists - King Bullard Version - Songs Of The BOS Label reviewed on 2013-11-21



Various Artists - One and All, Together, for Home reviewed on 2014-07-14



Various Artists - Work Hard, Play Hard, Pray Hard: Hard Time, Good T reviewed on 2012-11-01



Various Artists - Zelphabet Volume D reviewed on 2008-09-22



Various Artists - Geluidpost reviewed on 2010-07-03



Various Artists - 100 Jahre Einsamkeit: Markus Detmer Plays Staubgol reviewed on 2010-11-13



Various Artists - A Tasty Swarm of Small Signals reviewed on 2011-06-20



Various Artists - Adventures in sound reviewed on 2009-04-25



Various Artists - Alec Empire Plays Staubgold: Rauschgold reviewed on 2010-03-29



Various Artists - An Exacerbati​ng Eclectic Compilatio​n reviewed on 2014-08-12



Various Artists - BAVE reviewed on 2010-09-18



Various Artists - Belly of the Whale reviewed on 2006-07-06



Various Artists - Better Undead Than Alive 2 reviewed on 2011-02-24



Various Artists - Brainkiller(boxset) reviewed on 2010-05-07



Various Artists - Brick By Brick reviewed on 2010-01-18



Various Artists - Check The Water reviewed on 2005-11-21



Various Artists - Childish Music reviewed on 2005-05-07



Various Artists - Colorfield Variations(dvd) reviewed on 2010-04-24



Various Artists - Creative Destruction reviewed on 2012-03-31



Various Artists - Crows of The World vol 1 reviewed on 2007-07-03



Various Artists - Cryosphere reviewed on 2007-04-21



Various Artists - Eleven Notes In Black reviewed on 2010-01-10



Various Artists - Fabriksampler v2 reviewed on 2009-01-03



Various Artists - FatheR-LanD reviewed on 2013-01-10



Various Artists - Favourite, Places reviewed on 2009-02-23



Various Artists - George Ferguson McKeating reviewed on 2011-03-11



Various artists - Grind Your Mind- A History of Grindcore reviewed on 2007-10-03



Various Artists - Harmika Yab-Yum: Folk Sounds from Nepal reviewed on 2005-03-27



Various Artists - Harsh Purification reviewed on 2010-03-15



Various Artists - Hate Tasting reviewed on 2011-06-07



Various Artists - Hear Japanese, See Japanese, Say Japanese reviewed on 2010-09-14



Various Artists - HNW(vol 2) reviewed on 2010-01-21



Various Artists - Isolationizm reviewed on 2012-12-01



Various Artists - John Barleycorn Reborn reviewed on 2007-10-26



Various Artists - Kad Te Moja Čakija Ubode reviewed on 2013-03-28



Various Artists - LA Noisescape reviewed on 2006-07-29



Various Artists - La Nuit De Fées reviewed on 2008-05-21



Various Artists - Last Winter We Didn't Sing reviewed on 2010-05-11



Various Artists - Less-Lethal Vol 1 reviewed on 2008-04-07



Various Artists - Let Me Play This For You: Rare Cajun Recordings 19 reviewed on 2013-06-17



Various Artists - Live At Caffè Lena: Music From America's Legendary reviewed on 2013-08-29



Various Artists - Lost in the Humming Air reviewed on 2012-04-02



Various Artists - Man Chest Hair reviewed on 2013-01-22



Various Artists - Mit Fester Hand – Allerseelenlieder reviewed on 2011-12-08



Various Artists - Oak Folk reviewed on 2011-02-10



Various Artists - Only for the Mind Stone Long reviewed on 2005-05-23



Various Artists - Optofonica(dvd & book) reviewed on 2010-04-21



Various Artists - Pere-Lachaise reviewed on 2007-08-02



Various Artists - Quit Having Fun reviewed on 2010-04-14



Various Artists - Radio Rivendell Compilation reviewed on 2007-07-09



Various Artists - Radio Rivendell Compliation Vol 2- The Book of War reviewed on 2008-05-27



Various Artists - Séance reviewed on 2013-08-02



Various Artists - SILENCE=DEATH reviewed on 2011-08-12



Various Artists - Silva reviewed on 2006-05-02



Various Artists - Sounds Like Silence-Cage reviewed on 2013-08-09



Various Artists - South Of Hebburn reviewed on 2014-04-01



Various Artists - Stasis:001 reviewed on 2010-09-10



Various Artists - Strange Passion: Explorations in Irish Post Punk, reviewed on 2012-08-24



Various Artists - Supernova 2 reviewed on 2010-02-02



Various Artists - Swarm reviewed on 2006-05-23



Various Artists - Teaism: Music Inspired By The Art And Culture Of T reviewed on 2010-11-05



Various Artists - Tension State Of Collapsing Vol.I + II reviewed on 2010-02-23



Various Artists - The Blasting Concept reviewed on 2010-01-22



Various Artists - The Cool Scene At Cafe Bizarre reviewed on 2010-07-16



Various artists - The Garden of Forking Paths reviewed on 2008-04-02



Various Artists - The Harmonic Series: A Compilation Of Musical Work reviewed on 2010-03-25



Various Artists - The Lotus Eaters: A Tribute To Dead Can Dance reviewed on 2004-10-17



Various Artists - The Trinity of the non Being reviewed on 2007-04-10



Various Artists - This May be My Last Time Singing reviewed on 2011-11-29



Various Artists - Thrashing Like A Maniac reviewed on 2008-02-14



Various Artists - Throne reviewed on 2013-11-06



Various Artists - Touch 25 reviewed on 2006-06-01



Various Artists - Troubled Sleep #1 (paper zine) reviewed on 2010-06-29



Various Artists - Viva Negativa! A Tribute to the New Blockaders Vol reviewed on 2011-07-25



Various Artists - Wall of Death reviewed on 2012-01-27



Various Artists - Wallwhores reviewed on 2010-06-03



Various Artists - We Bring You A King With A Head of Gold reviewed on 2011-11-16



Various Artists - Welcome to the Twisted Cabaret, Vol. 1(CD & DVD) reviewed on 2010-08-11



Various Artists - Where the Moon was Red reviewed on 2008-07-09



Various Artists - Who's That Man: A Tribute to Conny Plank reviewed on 2013-05-14



Various Artists - Wilde Jaeger reviewed on 2008-02-21



Various artists - Wilde Jaeger (extra disk & box) reviewed on 2008-05-07



Various Artists - Zelphabet volume A reviewed on 2008-04-09



Various Artists - Zelphabet volume B reviewed on 2008-05-02



Various Artists - Zelphabet Volume C reviewed on 2008-07-11



Various Artists - Zelphabet Vol E reviewed on 2008-12-30



Various Artists - Zelphabet vol J reviewed on 2010-08-27



Various Artists - Zelphabet vol K reviewed on 2013-10-08



Various Artists - Zelphabet Volume L reviewed on 2012-09-17



Various artists (curated by Marc Behrens - Replace reviewed on 2014-03-28



Various artists/ Elliott Sharpe - Tone of Finland reviewed on 2006-09-18



Various Harsh Noise Wall Artists - Giallo reviewed on 2011-03-23



Various HNW & Noise Artists - Giallo Duro Muro Rumore E Sadomasochismo Elettroni reviewed on 2011-10-14



Various HNW Artists - Alone (tape boxset) reviewed on 2011-01-05



Various HNW Artists - Ascolta Con Dolore reviewed on 2011-02-17



Various HNW Artists - Buio Omega reviewed on 2010-10-29



Various HNW Artists - Crimes Of Passion reviewed on 2013-05-14



Various HNW Artists - Death Metal reviewed on 2011-04-27



Various HNW Artists - Eyjafjallajökull reviewed on 2010-10-05



Various HNW Artists - Four Way untitled Split reviewed on 2011-05-07



Various HNW Artists - In grim imus nocte et consumimur igni reviewed on 2010-10-26



Various HNW Artists - Murdered & Raped...Touched Again reviewed on 2012-05-30



Various HNW Artists - Seven Domains Of Disgust reviewed on 2012-09-18



Various HNW Artists - Short Noise Wall reviewed on 2013-10-31



Various HNW Artists - Staring At Wall- The HNW Annihilation reviewed on 2010-11-01



Various HNW Artists - Ursula reviewed on 2010-11-11



Various HNW projects - Space & Nature reviewed on 2012-08-26



Various Noise Artists - Untitled 5-Way Split 10" reviewed on 2011-05-16



Varrst - Respect Your Colors reviewed on 2013-03-08



Vasectomy Party - The Wulfgar Command II reviewed on 2012-11-17



Vasilisk - Tribal Zone reviewed on 2013-02-13



Vast Glory - Self Titled reviewed on 2012-06-19



Vatican Shadows - Kneel Before Religious Icons reviewed on 2012-04-16



Craig Vear - ESK reviewed on 2012-09-04



David Vélez - El Pájaro que Escucha reviewed on 2012-11-02



Velfaerd - Alt Er Vel reviewed on 2014-06-03



Velvet Acid Christ - Twisted Thought Generator reviewed on 2001-12-22



Venetian Snares - Doll Doll Doll reviewed on 2001-11-18



Venetian Snares - Higgins Ultra Low Track Glue Funk Hits 1972-2006 reviewed on 2002-06-21



Venetian Snares - Rossz Csillag Allat Született reviewed on 2005-03-23



Venetian Snares - Winter In The Belly Of A Snake reviewed on 2002-12-18



Venom - Resurrection reviewed on 2007-06-13



Venta Protesix - Complexed reviewed on 2010-05-18



Venta Protesix - Painful Sexual Perversion reviewed on 2011-09-15



Verde - Legenda reviewed on 2007-01-24



Verilöyly/Candy Cane/Navigations/Cahier - Split reviewed on 2009-01-04



Vessels - White Fields and Open Devices reviewed on 2008-09-17



Vestigial - Translucent Communion reviewed on 2008-09-03



Vestigial Limb - Put to the Sword reviewed on 2010-08-16



Vetiver - Thing Of The Past reviewed on 2008-05-22



Vetiver - To Find Me Gone reviewed on 2006-07-10



Christian Vialard - Neukalm reviewed on 2014-07-22



Vice Wears Black Hose - Part 2 reviewed on 2009-05-26



Vicnet - Vic-CD reviewed on 2003-11-10



Jake Vida - Ten Arrows reviewed on 2010-01-26



Vidinè Ramybè/Vomir - untitled split reviewed on 2012-02-11



vidnaObmana - Legacy reviewed on 2004-10-22



Vilgoc - _IXOYE_ (Infinity series part 17) reviewed on 2012-06-29



Vilgoc/ Abyzm - Split reviewed on 2014-01-23



Robert Vincs - Devic Kingdom reviewed on 2007-07-24



Vinterriket - Gebirgshohenstille reviewed on 2008-06-19



Vinterriket - Horizontmelancholie reviewed on 2010-12-16



Vinterriket - Zwischen Den Jahren reviewed on 2011-08-30



Violetshaped - Self Titled reviewed on 2013-07-10



Virgin Black - Sombre Romantic reviewed on 2002-03-02



Feu Follet & Miina Virtanen - The Icicle Lectures Vol. 1 reviewed on 2007-05-13



Virus - Carheart reviewed on 2003-09-21



Visions - Summoning The Void reviewed on 2010-07-29



VLE - Book of Illusions: Chatpers 1 & 2 reviewed on 2001-12-26



Eric Vloeimans - Umai reviewed on 2001-12-27



VNV Nation - Genesis.1 reviewed on 2001-11-16



VNV Nation - Genesis.2 reviewed on 2001-11-16



Voice Of The Eye - Seven Directions Divergent reviewed on 2010-02-04



Voices - From The Human Forest Create A Fugue Of Imaginary reviewed on 2013-04-04



Void Of Silence - Human Antithesis reviewed on 2005-03-11



Void Sacrifice - Issue one(fanzine) reviewed on 2012-08-16



Volcano The Bear - Amidst the noise and Twigs reviewed on 2008-01-17



Volcano The Bear - Classic Erasmus Fusion reviewed on 2006-04-22



Volcano The Bear - Volfurten reviewed on 2006-12-08



Volcano the Bear & La STPO - The Shy Volcanic Society at the Bear and Bird Para reviewed on 2010-06-17



Volcano! - Beautiful Seizure reviewed on 2006-02-14



Volga - Pomol reviewed on 2007-04-18



Vomir - Application À Aphistemi reviewed on 2011-06-02



Vomir - Attache À Ton Esprit Un Éternel Bourreau reviewed on 2011-12-03



Vomir - Consolament Bruitiste Part 1 reviewed on 2011-08-09



Vomir - Deliverance - The Living Dead Noise Box reviewed on 2014-06-27



Vomir - Ennui reviewed on 2014-05-22



Vomir - Enragement Contraint reviewed on 2013-06-28



Vomir - Hommage Au Duc De Reschwig reviewed on 2010-01-05



Vomir - Honour To Bleak Existence reviewed on 2010-04-21



Vomir - Je Me Retire De Moi reviewed on 2011-01-14



Vomir - L'homme Saturé reviewed on 2011-04-27



Vomir - La Puissance De L'Erreur reviewed on 2011-07-21



Vomir - Les Escaliers De La Cave reviewed on 2014-01-17



Vomir - Maisonbruitarchive (cdr boxset) reviewed on 2011-09-20



Vomir - Maniac reviewed on 2010-06-05



Vomir - No Title reviewed on 2010-12-10



Vomir - Petites Amoureuses Ensevelies reviewed on 2012-11-28



Vomir - Portrait Series #6 reviewed on 2010-03-20



Vomir - Processing The Wall reviewed on 2013-02-07



Vomir - Quest, No Conquest reviewed on 2014-06-10



Vomir - Recycled reviewed on 2011-09-02



Vomir - Renonce reviewed on 2010-11-22



Vomir - Trümmerlärm reviewed on 2012-06-14



Vomir - Untitled reviewed on 2010-01-30



Vomir - Untitled reviewed on 2010-08-18



Vomir - Untitled( C30) reviewed on 2012-09-21



Vomir - Untitled(1) reviewed on 2011-11-03



Vomir - Untitled(Altar of waste) reviewed on 2012-12-20



Vomir - Untitled(Beartown) reviewed on 2012-10-15



Vomir - Untitled(c39) reviewed on 2011-03-17



Vomir - Untitled(gold soundz) reviewed on 2012-02-10



Vomir - Untitled(IATV 03) reviewed on 2012-01-10



Vomir - Untitled(Infinity series Part 14) reviewed on 2012-05-01



Vomir - Wall Upholstery reviewed on 2012-10-15



Vomir & Absence.Insolution - The Heart Devour reviewed on 2011-03-09



Vomir & Marc Hurtado - 2011 reviewed on 2013-04-18



Vomir / Ptomain - Split reviewed on 2010-05-06



Vomir/ Inanition - Split reviewed on 2013-11-05



Vomir/ The Godless Girl - Le Vide reviewed on 2010-10-07



Vomir/Abyzm - Split reviewed on 2013-09-06



Vomir/Ataraxy - Split reviewed on 2014-03-12



Vomir/Clive Henry - Unitled reviewed on 2012-03-16



Vomir/Crucifix Eye - Self Titled reviewed on 2013-03-07



Vomir/Earthenwomb - Split reviewed on 2013-09-11



Vomir/Ekunhaashaastaack - Split C40 reviewed on 2011-06-25



Vomir/Fukte - Electro-Static reviewed on 2012-09-04



Vomir/Gender Sabotage - Untilted c60 split reviewed on 2011-11-11



Vomir/Goghal - Amour Du Fossoyeur/Morbus Mora reviewed on 2012-07-25



Vomir/Mixturizer - Split reviewed on 2010-05-28



Vomir/Werewolf Jerusalem - Split 7inch reviewed on 2012-05-03



Vomit Orchestra - Antecrux reviewed on 2007-06-20



Vomit Orchestra - Bridges Burnt reviewed on 2007-04-27



Von Himmel - Self Titled reviewed on 2008-07-05



Otto Von Schirach - Maxipad Detention reviewed on 2006-06-06



Von Thronstahl - Conscriptum reviewed on 2010-12-09



Steve Von Till - A Grave is a Grim Horse reviewed on 2008-07-25



Vorg - Järven reviewed on 2012-06-29



Vorg & Kaffehitler - Self Titled Split reviewed on 2010-07-12



Vulcanus 68 - S/t reviewed on 2007-09-28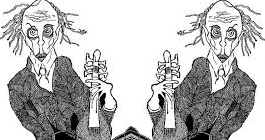 Rudimentary Peni - Cacophony
Rudimentary Peni were one of more unique, darkly surreal & at times down-right-weird projects to appear from late 1970's to 1980's Anarcho-punk scene. An...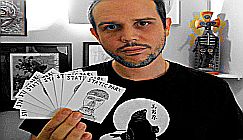 Julien Skrobek - Artful Static
Frenchman Julien Skrobek is one of the more interesting & thought-provoking figures to appear from the European HNW scene. Firstly the sound of his many ...