Review archive: f

F.S. Blumm & Nils Frahm - Music For Lovers Music Versus Time reviewed on 2011-07-30



Facialmess / Sleep Sessions - Excessive Force reviewed on 2013-05-28



Ferran Fages - Al voltant d'un para/.lel reviewed on 2009-03-08



Ferran Fages - Cançons per a un lent retard reviewed on 2007-10-13



fago.sepia - L'Âme sûre ruse mal reviewed on 2007-08-14



Rebsie Fairholm - Mind The Gap reviewed on 2008-04-11



Faith No More - King For A Day Fool For A Lifetime reviewed on 2001-08-23



Nathan Fake - Steam Days reviewed on 2012-09-20



Falcon (Ex- Circle) - Frontier reviewed on 2014-04-15



Falkenstein - Heiliger Wald reviewed on 2008-11-22



Falkenstein - Kraftort reviewed on 2011-02-14



Falkenstein - Urdarbrunnen reviewed on 2009-02-02



False Flag - Metal Birds reviewed on 2012-01-04



False Mirror - Derelict World reviewed on 2011-08-10



The Fan Club Orchestra - Sun Papa And The Fan Club Orchestra Vol. 1 & 2 reviewed on 2002-06-21



Fan Service - Part III reviewed on 2012-06-07



Fan Service - Vixen reviewed on 2013-04-24



Fantômas - The Directors Cut reviewed on 2001-07-25



Fantome De Sang - Dans La Nuit Vampirique reviewed on 2014-01-03



Fantome de Sang - Maladif Lune reviewed on 2013-11-19



Far Black Farlong - S/t reviewed on 2008-01-09



Far Corner - Endangered reviewed on 2007-05-27



Mylène Farmer - Les Mots reviewed on 2001-12-26



Farmers Market/Stian Carstensen - n/t reviewed on 2001-07-30



Fatale - Pour Vous reviewed on 2011-09-17



Sigmarsson, Haynes Faulhaber, Waldron, Stapleton - The Sleeping Moustache reviewed on 2006-05-17



Fausten - Self Titled reviewed on 2013-07-23



Faxed Head - Chiropractic reviewed on 2001-10-15



Fazio - Interiors reviewed on 2014-01-29



Fear Falls Burning - First by a whisper, then by a storm reviewed on 2005-03-29



Fear Falls Burning - Frenzy Of The Absolute reviewed on 2008-05-18



Fear Falls Burning - I'm One Of Those Monsters…/The Amplifier Drone reviewed on 2007-02-04



Fear Konstruktor - Philosophy of Conflict reviewed on 2010-07-05



Fearthainne - Self Titled reviewed on 2010-02-17



Fecalove - Animal reviewed on 2008-04-14



Fecalove - Erection reviewed on 2007-05-25



Fecalove - Filth reviewed on 2009-02-28



Fecalove - Forever Young reviewed on 2010-11-16



Fecalove/Cris Ex - Ass + Mouth reviewed on 2008-09-02



Fecalove/Morbid Behaviour - Chinese Whore reviewed on 2008-06-14



Morton Feldman - Crippled Symmetry :At June In Buffalo reviewed on 2013-01-23



Morton Feldman - For Philip Guston reviewed on 2014-04-15



Mark Fell - Attack On Silence(DVD) reviewed on 2013-01-17



Mark Fell - Multistabi​lity reviewed on 2012-02-26



Female Harakiri - Chainsaw Majini reviewed on 2010-03-24



Female Harakiri - Death Of Chizuko Mifune reviewed on 2011-12-24



Female Harakiri - Dread reviewed on 2011-02-04



Female Harakiri - The Wave Petals reviewed on 2014-02-20



Fennesz - Black Sea reviewed on 2009-06-26



Fennesz - Seven Stars reviewed on 2011-10-07



Fennesz - Venice reviewed on 2004-05-31



Fennesz Daniell Buck - Knoxville reviewed on 2010-12-01



Fenton - Pup reviewed on 2005-12-24



Luc Ferrari - Cellule 75 reviewed on 2005-05-04



Luc Ferrari - Son Memorise reviewed on 2006-05-03



Fetish 69 - Atomized reviewed on 2003-07-25



Feu Follet - Fogbank reviewed on 2008-07-27



Feu Thérèse - Ça Va Cogner reviewed on 2007-12-01



Feu Thérèse - Feu Thérèse reviewed on 2006-04-20



Fhievel - Pipe smoking on a Balloon reviewed on 2010-11-13



Figueras,Toop & Burwell - Cholagogues reviewed on 2009-04-11



Figures Of Solitude - I'm So Lonely I Could Die reviewed on 2012-04-11



Films - Messenger reviewed on 2011-06-20



Filth - Winter Mind reviewed on 2011-11-26



Filthy Turd - The Corpse Vanishes/ eager meat reviewed on 2008-09-10



Final - 3 reviewed on 2006-01-23



Final Solution - All New Power reviewed on 2011-01-19



Finn - The Ayes will have it reviewed on 2005-09-23



Fire - You Liked Me Five Minutes Ago reviewed on 2010-04-12



Fire in the Head - Confessions of a Narcissist reviewed on 2010-10-27



Fire In The Head - I/CON reviewed on 2007-12-17



Fire In The Head - Meditate/ Mutilate reviewed on 2006-09-23



fire island AK - Extravagantes reviewed on 2010-12-20



Fire Under Water - Self Titled reviewed on 2012-02-07



Firebird - Hot Wings reviewed on 2006-09-19



Fires were shot - Solace reviewed on 2004-07-16



Marcus Fischer - Collected Dust reviewed on 2012-06-25



Marcus Fischer - Monocoastal reviewed on 2011-04-14



Simon Fisher Turner - The Great White Silence(OST) reviewed on 2012-08-21



Robert Fisk - War Journalism, and the Middle East reviewed on 2006-12-18



Fisthammer - Infallible reviewed on 2014-04-22



Fistula - Goat reviewed on 2010-07-06



Five Elements Music - VarunaGhat reviewed on 2008-06-04



Fixture for Toxins - The Night Hoovers over Us Again reviewed on 2008-09-25



Fixture for Toxins - Thernodies for Labour reviewed on 2008-10-11



Marcus Fjellström - Gebrauchsmusik reviewed on 2006-11-11



Marcus Fjellström - Library Music 1 reviewed on 2011-08-05



Marcus Fjellström - Schattenspieler reviewed on 2012-01-18



Franz Fjödor - _Exhibition reviewed on 2008-07-14



Flagellant - Maledictum reviewed on 2014-03-17



Flagellant - Monuments reviewed on 2012-02-02



The Flaming Lips - Yoshimi Battles the Pink Robots reviewed on 2002-11-24



Flesh Coffin - Crawling in Chaos reviewed on 2010-09-09



Flesh Coffin - Demons In The Mist reviewed on 2010-02-19



Flesh Coffin - Headcase reviewed on 2010-04-01



Flesh Coffin - So Much Darkness reviewed on 2011-06-15



Flesh Coffin - The Beast Won't Go To Sleep reviewed on 2012-04-14



Flesh Puppets - Medusa reviewed on 2010-07-01



Fleshies - Kill the Dreamer's Dream reviewed on 2001-09-15



Fleurety - Las Minute Lies reviewed on 2001-06-10



Flim - Ohne Titel, 1916 reviewed on 2006-09-25



Flipper - Generic/Gone Fishin'/Public Flipper Ltd. reviewed on 2009-06-03



Flössin - Lead Singer reviewed on 2005-01-12



Fluorescent Grey - Gaseous Opal Orbs reviewed on 2008-03-24



Flutwacht - Heroinloops reviewed on 2008-08-15



Fly Pan AM - Ceux qui inventent n'ont jamais vecu (?) reviewed on 2002-05-11



FNS - Self titled reviewed on 2010-07-20



André Foisy - Seven Thrones reviewed on 2011-06-22



Folge dem Wind - To Summon Twilight reviewed on 2014-02-24



Folter - Blood Blind reviewed on 2014-03-14



Folter - Self Titled reviewed on 2011-11-18



Fonica - Ripple reviewed on 2003-05-31



Fontanelle - F reviewed on 2001-08-08



Fontanelle - Vitamin F reviewed on 2013-01-14



Luca Forcucci - Fog Horns reviewed on 2013-10-08



Forest Jackson - Cymbalism reviewed on 2006-10-05



Forma - Self Titled reviewed on 2011-08-18



Luca Formenti - Tacet reviewed on 2008-09-23



Formication - Agnosia reviewed on 2007-11-17



Formication - Ghosts (Omnia Exeunt in Mysterium) reviewed on 2008-11-23



Formication - Icons For A New Religion reviewed on 2007-07-11



Forniphilia - Useful or Useless reviewed on 2013-08-29



Forrest Fang - Animism reviewed on 2013-02-18



Chris Forsyth - Kenzo Deluxe reviewed on 2013-06-17



Fortune & Folly - Birch Book reviewed on 2006-12-16



Fouke - Batutut reviewed on 2010-09-15



Fouke - Black Lake reviewed on 2012-07-11



Fouke - Stenwyken reviewed on 2010-04-09



Fouke - Yeren reviewed on 2011-08-18



Fouke / Is / The Rita / Vomir - HNW reviewed on 2010-09-23



Fouke/XSXCXEXBX - Split reviewed on 2010-10-21



Foul - An Imbalance Of Serotonin reviewed on 2014-01-14



Foul - Bolt reviewed on 2010-09-28



Foul - Lisa Levy reviewed on 2011-12-24



Foul - Loss reviewed on 2013-02-22



Foul - Murder Castle reviewed on 2011-02-12



Foul - Naturan Demanto reviewed on 2010-02-10



Foul - Opiate reviewed on 2012-06-14



Foul - Ripping The Flesh Out Of Your Guts reviewed on 2012-09-13



Foul - The Burining reviewed on 2012-10-20



Foul - The Mark Inside reviewed on 2010-04-03



Foul - When There's No More Room In Hell, The Dead Will W reviewed on 2011-06-30



Foul & Snuff Film - Kill! Kill! reviewed on 2011-11-25



Foul / XSXCXEXBX - Split reviewed on 2010-05-13



Foul/Cannibal Ritual - Split reviewed on 2010-05-22



Four Colour - Letter Of Sounds reviewed on 2006-10-12



Four Flies - Choking on Your Own Blood and Spit reviewed on 2010-11-16



Four Flies - Il Gatto Nero reviewed on 2011-06-15



Fourcolor - Air Curtain reviewed on 2004-11-20



Fourcolor - As Pleat reviewed on 2011-10-21



Fourcolor - Water Mirror reviewed on 2004-11-02



Fovea Hex - Here Is Where We Used To Sing reviewed on 2011-04-12



Jarrod Fowler - Now that's what i call noise vol 13 reviewed on 2008-06-25



Jarrod Fowler - Percussion' as percussion reviewed on 2009-04-06



Fragile - Canzoni Da Etichette Morte – Raccolta reviewed on 2013-05-29



Fragile - Untitled reviewed on 2011-02-22



Frailty Of Angels - Restless, Hopeless reviewed on 2012-06-09



Fräkmündt - Urbärglieder reviewed on 2011-06-29



Sage Francis - Personal Journals reviewed on 2003-07-08



Francisco López & Lawrence English - HB reviewed on 2010-04-26



Francisco López + Novi_sad - Titans reviewed on 2013-03-04



Yannick Frank - Hierophany | Èåðîôàíèÿ reviewed on 2013-11-27



Reinhold Friedl - Inside Piano reviewed on 2012-02-06



Reinhold Friedl - Xenakis (A)live reviewed on 2007-09-09



Dan Friel - Valedictor​ian/Exoske​leton reviewed on 2012-10-22



Frightened Rabbit - The Midnight Organ Fight reviewed on 2008-04-05



Robert Fripp - Love Cannot Bear reviewed on 2005-11-30



Fred Frith - To Sail, To Sail reviewed on 2008-11-09



Dan Fröberg - At Dawn we All Fall Down the Stairs reviewed on 2010-10-05



Dan Fröberg - The Existence Of Do-ti-la-so-fa-mi-re-do Is Everyt reviewed on 2011-07-05



Front Line Assembly - Civilization reviewed on 2005-07-21



Fuck Patrol - Contact reviewed on 2011-08-18



Fuck Patrol - Courtship Disorder reviewed on 2012-01-23



Fuckhead - Lebensfrische DVD reviewed on 2007-02-14



Fukte - Сиби́рь [ reviewed on 2010-03-09



Fukte - Giallo a Venezia reviewed on 2011-01-25



Fukte - Melancholia reviewed on 2010-10-14



Fukte - Nitropentadecene reviewed on 2014-03-14



Fukte - Pet Therapy reviewed on 2010-03-29



Fukte/Soma - Cycle reviewed on 2011-05-24



Full of Hell - Rudiments of Mutilation reviewed on 2013-06-25



Full of Hell/ Calm the Fire. - Split 7 inc reviewed on 2014-02-04



Ellen Fullman - Through Glass Panes reviewed on 2011-12-08



Function - The Secret Miracle Fountain reviewed on 2007-07-15



Funeralium - Self Titled reviewed on 2008-09-27



Funerary Call - Dark Waters Stirred reviewed on 2011-06-21



Funerary Call - Fragments From The Aethyr reviewed on 2012-11-22



Funerary Call - Nightside Emanations reviewed on 2012-09-25



Funerary Call - The Mirror Reversed- Part 1 reviewed on 2014-03-26



Funkstörung - Vice Versa reviewed on 2001-12-01



Furfur - Nure-onna reviewed on 2012-06-13



Fursaxa - Kobold Moon reviewed on 2008-06-12



Fursaxa - Mycorrhizae Realm reviewed on 2012-01-14



Nelly Furtado - Whoa, Nelly! reviewed on 2002-07-01



Furze - Psych Minus Space Control reviewed on 2013-04-29



Future Islands - Wave Like Home reviewed on 2009-03-15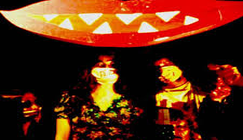 The Dead End Street Band - Murder
Murder offers up three lengthy submersion into 70's/80's tinged bass bound synth horror, & (mostly) subtle noise tone fluctuations. The Dead End Street B...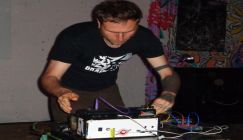 ST PETE HNW Fest and the Return o...
On April 29th, 2014, 7 artists got together to present an evening of focused wall noise. The venue of choice was the Suncoast's go to anti-art establishment ...